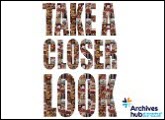 If there's an historical element to your research, how about taking a look at the Archives Hub http://archiveshub.ac.uk/.  This is a collection of descriptions of archives from nearly 200 institutions across the U.K.  It covers a wide range of subjects and could provide you with some unique information and a chance to demonstrate your depth of searching. 
The Archives Hub website has recently been updated and improved making it even easier to search or browse. The Hub doesn't actually hold any archives, just descriptions of them, so you would need to contact the holding institution of any archive(s) you wanted to view.
Even if you are not 'old' you could still use the Hub for a personal research project, or why not have a look to see if your old school registers  are on there?