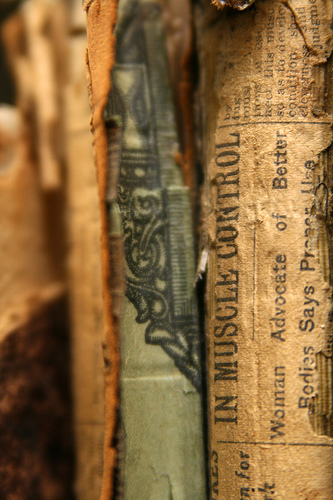 A recent article on the BBC News web site tells of recent research into – literally – sniffing out decay in old books. The distinctive musty smell of old books is the result of volatile or semivolatile organic compounds escaping. Mmm, nice!
The Department of Information Science has a postgraduate module on Collection Management and Preservation which looks at why and how information artefacts decay over time and strategies for dealing with this. This module concentrates on the management aspects, including preservation needs assessment and developing and implementing preservation management policies. It also looks closely at digital preservation, but that is another story – and quite definitely does not involve sniffing old books!
If you'd like to find out more about book preservation, why not check up on what's been written on the subject? There are many books catalogued at 025.84 in the Library's book collection. Articles can also be found by checking the LISA database on MetaLib.
There are many organisations conducting research into conservation. Here are just a few – the Getty Conservation Institute, British Library Conservation Centre, Conservation Center for Art and Historic Artifacts,  University College London's Centre for Sustainable Heritage.
The original research on this topic was contained in an article by Charles W. Schmidt called On the Smell of Old Books in the journal Analytical Chemistry (article available to Loughborough University members free on campus, off-campus use Athens details) volume 81, issue 21, p8656, year 2009.
Photo © quinn.anya, reproduced by Creative commons licence