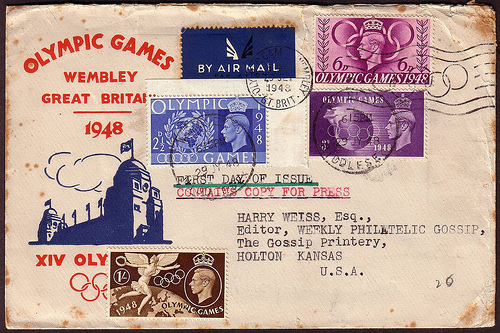 A new exhibition at the British Library this summer takes a look at the history of the Olympic Games through a slightly different media – postage stamps!
Olympex 2012 offers a unique insight into the history, symbolism and iconography of the Olympic movement, beginning with a long run up to the first modern Games in 1896, pacing the distance of the London Games of 1908 and 1948, before a sprint finish to London 2012.  The exhibition is drawn largely from the collections of private collectors and includes over 2500 stamps and postal items as well as other intriguing pieces of related Olympic memorabilia.
Our own Library isn't short of an item or two of Olympic memorabilia itself, and some of it is still currently on display in our Olympic exhibition on Level 3, including a genuine Olympic Torch from the London 1948 Games. Why not pop in and have a look?
Olympex 2012: Collecting the Olympic Games runs from July 25th until 9th September and is free to visit. For further details visit the British Library website here:
http://www.bl.uk/whatson/exhibitions/olympex2012/index.html
1948 Olympic stamps first-day cover image courtesy of footysphere, reproduced under CC License from Flickr.