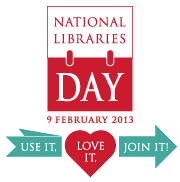 It's National Libraries Day next week, and to mark the occasion we're hosting a couple of displays in the Library on Monday and Tuesday.
On Monday we'll be extolling the virtues of our leisure reading collection and our new student book club, Club 790, which launches on Wednesday February 13th.
On Tuesday we'll be running a survey on the use of mobile technology in the Library and promoting our new Library app, which you can access here.
Both stands will be running between 11AM to 2PM, and free goodies will be available by way of incentive!
National Libraries Day is a country-wide celebration of all things library, highlighting the positives things libraries and librarians contribute to people, families, communities, workplaces, the economy and society. To find out more about it, visit their homepage here: