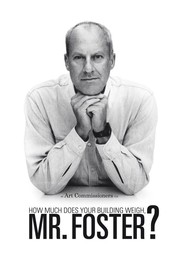 This Wednesday afternoon at 3pm in the Cope Auditorium Eden Flix presents a free showing of the documentary film How Much Does Your Building Weigh, Mr. Foster?, introduced by Professor Jacqui Glass, Professor of Architecture & Sustainable Construction in the School of Civil and Building Engineering.
The film traces the rise of one of the world's premier architects, Norman Foster, and his unending quest to improve the quality of life through design.
Tickets are free, but booking is necessary – follow this link to do that.
Eden Flix are a series of highly acclaimed, thought-provoking and inspirational documentaries on issues related to engineering, design and social consciousness. All staff and students at Loughborough are welcome to attend.