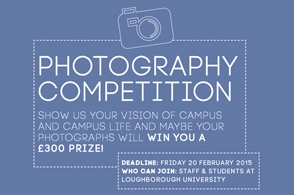 Do you love to capture the world around you in photographs? Then LU Arts would like to invite you to enter our campus photography competition. All staff and students are welcome to join, whether you're an experienced photographer or enthusiastic rookie.
LU Arts are looking for photographs that convey how you see the campus and campus life. Whether you choose to show the architecture or the landscape; the life of staff or students; a lecture hall or student party; a brutalist building or a modern design; we want it all to be caught on camera! 
You can submit a maximum of three photographs for a chance to win a maximum first prize of £300, plus a chance to be published on the LU Arts/RADAR Flickr page and feature in the Freefest exhibition later in the year.
All entries should be submitted by e-mailing them to luarts@lboro.ac.uk or sending them using wetransfer.com by no later than 20th February. Full terms and conditions are available here: http://www.arts.lboro.ac.uk/calendar/event/photography_competition/