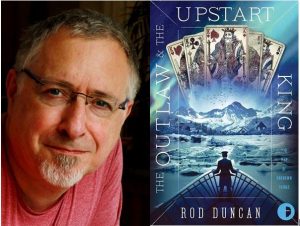 The Student Union will be visited by an acclaimed literary guest at the launch of a new reading initiative next week in the form of alternate history, fantasy and contemporary crime author Rob Duncan, whose novels have been shortlisted for the Philip K. Dick Award, the East Midlands Book Award and the John Creasey Dagger of the Crime Writers' Association. 
Rob will be reading an excerpt from his brand new novel The Outlaw and the Upstart King followed up with an exclusive interview and Q&A conducted by Loughborough University academic Deirdre O'Byrne.
Reading Ahead is an initiative spearheaded by the Reading Agency which is run in different workplaces by UNISON. The launch event will be a chance to browse their book selection, receive a complementary reading diary and meet other people from the challenge, plus the chance to enter a prize draw. There will also be literary-themed activities, a mystery book raffle and refreshments will be available.
All staff, students and friends and family are welcome to attend, though booking is necessary – check this link for further details: https://loughboroughuniversity.unison.site/events/unison-reading-ahead-2019-launch-event/
The launch commences at 12pm on Wednesday 9th January in Cognito at the Student Union. Rob will be presenting between 12:30pm and 1:30pm.