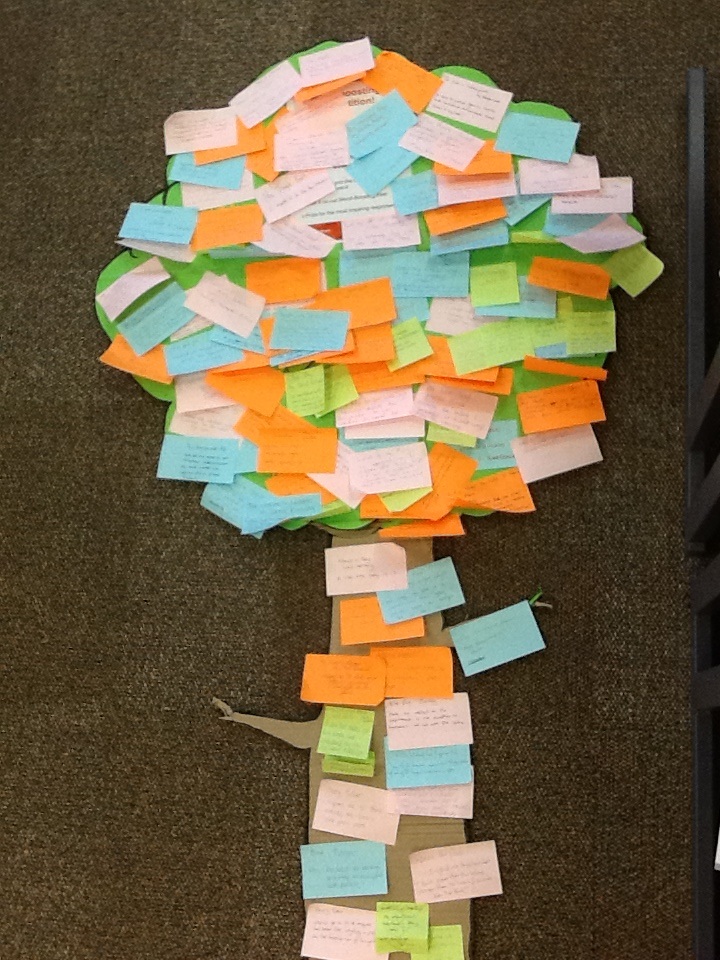 The University Mental Health & Wellbeing Day a couple of weeks ago was, by all accounts, a rampant success, and our own little stand down at the SU Building, to promote the joys of our Leisure Reading collection and its own section of mood-boosting books and 'Books On Prescription', went down really well – as you can tell from the number of suggestions we had stuck on our very own Mood-Boosting Tree above!
We asked you to name the book or novel that has done the most to lift your spirits or boost your mood, and to write down why and then stick it on the tree. Well, we were overwhelmed with fantastic entries (just compare & contrast the image above with the image we took here before we took the tree down to the SU!) and we're now happy to announce that the winner of our £25 Amazon Kindle voucher was Katie Burns from English and Drama, who was inspired while growing up by The Illustrated Mum by Jacqueline Wilson. Well done Katie!
We haven't forgotten about the other entries, though, as we'll be checking through them all to see which of these inspirational works we currently don't hold in stock, and look to purchase them for addition to our collection. So a big THANK YOU for everyone who helped inspire us – we hope you enjoyed the day as much as we did!