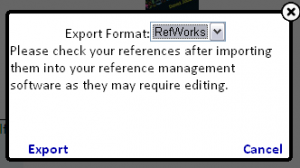 In addition to BibTeX and RIS, you can now export references from the Reading List system direct to RefWorks. As with all export to reference management software, it's a good idea to check the accuracy of the references following import into your account.
There are a number of other new features for the Reading List system. Chief among these are the search by ISBN and the link to the campus bookshop features.
Need to know if a book or journal is recommended for more than one module? Now you can use the search by ISBN or ISSN option to identify the reading lists concerned.
Information about availability of a particular book in the campus bookshop is now displayed where available. The main book detail page will indicate if there is one or more copies of a text as shown in the screen shot below: