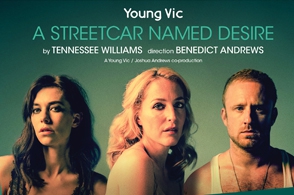 Want to watch award-winning theatre live but not willing to pay the full cost of a ticket and a train fare to London? Then Flix, Loughborough Student Union's own film society, has the answer for you!
The Society have recently installed a LANsat media reciever at the Cope Building which will allow live events from around the world to be broadcast at the Cope Auditorium, beginning this autumn with a season of drama direct from the National Theatre.
First up this September the Young Vic company takes on Tennessee Williams' timeless masterpiece A Streetcar Named Desire, which will be broadcasted live from London. The piece tells the story of Blanche DuBois, whose fragile world is crumbling when she turns to her sister Stella for solace. But her downward spiral brings her face to face with Stella's husband, the brutal, unforgiving Stanley Kowalski.
Starring Gillian Anderson (of The X-Files fame) and directed by Critics' Circle Award winning director Benedict Taylor, A Streetcar Named Desire will be shown at the Cope Auditorium on Tuesday 16th September at 7pm. Tickets cost £10.
For further details of this and the rest of the NT Live programme to be shown over the coming year, visit the LU Arts calendar page here: