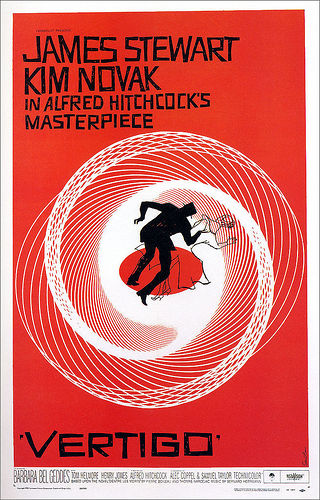 … Alfred Hitchcock's 1958 suspense classic, Vertigo. Or at least, it is according to Sight & Sound's panel of critics!
Every year over 800 cinema critics, academics and film industry professionals vote on their favorite films. For the last 50 years, Orson Welles Citizen Kane (1941) has been at the top, but this year Hitchcock's classic has finally usurped it by by 191 votes to 157.
The rest of the top ten comprise of Tokyo Story (1953), La Regle du jeu (1939), Sunrise (1927), 2001: A Space Odyssey (1968), The Searchers (1956), Man with a Movie Camera (1929), The Passion of Joan of Arc (1927) and 8 1/2 (1963).
The complete top 100 list will be published in September's issue of Sight & Sound, and a full interactive poll of the critics choices, along with a poll conducted among film directors, on the Sight & Sound website later in the month.
The library has copies of several of the films featured in this run-down, including Vertigo and Citizen Kane, as well as many other popular films, to say nothing of a considerable wealth of material, in print and online, about these movies and many, many other classics of the silver screen spanning every conceivable genre.
We also have access to Sight & Sound online, as well as hard copy back issues dating back to the journal's humble beginnings as the Monthly Film Bulletin. Why not pop down and have a browse and see what the critics made of your favorite movies back in the day?
Vertigo film poster by Andy Z, reproduced under CC License from Flickr.