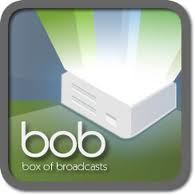 As part of British Science Week we're to take the opportunity to highlight some of the fantastic science & technology resources you can access at the Library, starting with the very wonderful Box of Broadcasts (or just BoB for short!)
BoB is an off-air recording and media archive service. BoB is available to staff and students of member institutions of the British Universities Film & Video Council that hold an ERA+ license. This TV scheduling service allows you to record TV and radio programmes that are scheduled to be broadcast over the next seven days as well as retrieving programmes from the last seven days from a selected list of recorded channels. Unfortunately, for copyright reasons access to BoB is not available from outside the UK.
Now as BoB, in theory, offers you everything, there's a veritable gamut of science programmes you can catch up on, including the BBC World Service's popular weekly science series The Science Hour, which highlights the top science and technology news of the week, as well as Radio 4's The Infinite Monkey Cage, an irreverent look at the world of science through the eyes of Professor Brian Cox and comedian Robin Ince, and classic archive science television like the ground breaking Horizon. Why not give it a browse and see what you can dig up?