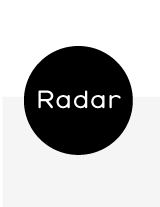 Radar celebrates its 10th anniversary this month with a display of artworks, printed materials, film screenings and events at the Martin Hall Exhibition Space.
This anniversary gives Radar the opportunity to reflect on the breadth and depth of their broad range of interdisciplinary projects that have been initiated with artists and Loughborough University academics.
Through a series of highlights Radar shares examples of their project work that has had, and continues to have, great impact on Loughborough students, staff and local communities, as well as making a vital contribution to the wider cultural sector and economy.
Launched in 2007 by LU Arts, Radar is a programme of contemporary art commissions, talks and films themed around the research activity of the University. You can dip back into their own archives on their website: http://www.arts.lboro.ac.uk/radar/
The Exhibition starts tomorrow, 13th March, and runs until 14th April. Opening times for the Exhibition are 10am – 5pm daily.