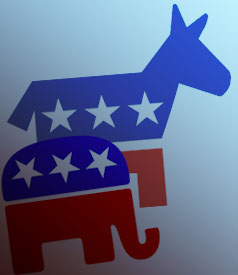 In case you missed it (and where have you been hiding if you have?!?) today is election day in the United States, as the incumbant Democratic President Barack Obama seeks to win a second term in office, whilst his rival Mitt Romney hopes to restore the Republican Party to the White House after they lost the election in 2008.
It's been a tumultuous four year reign (so far) for President Obama, and this has been reflected by an increasingly rancorous election campaign conducted by both sides. The latest polls suggest that it's neck and neck between the two rivals, and the rest of the world watches on with baited breath to see who will eventually emerge victorious.
If you're interested in the story behind this election, or indeed any other contest in America's past, you don't have to look very far in the Library. Aside from being able to 'read all about it' among our online newspaper archives on Library Catalogue Plus such as Nexis UK and the Times Digital Archive we also have a broad range of books on the topic of US elections and the office of the US President, past and present. 
And what's the deal with the menagerie in the title? Well, both animals were adopted by the respective political parties back in the 19th century as being most representative of their values. Democrats hold that the donkey is 'smart and brave', while Republicans regard the elephant as 'strong and dignified'!
Democratic Donkey & Republican Elephant image courtesy of Truthout.org, reproduced under CC License from Flickr.