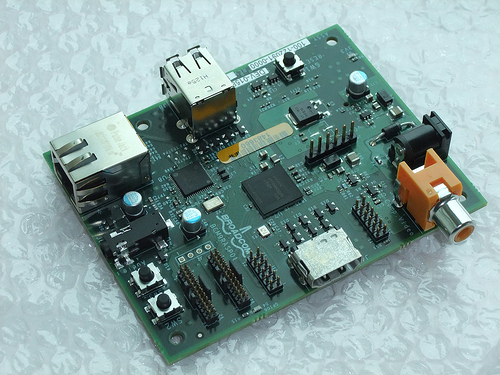 A pocket-money priced revolutionary new British computer went on sale first thing this Wednesday morning, and not only almost instantly sold out, but crashed all the websites of the vendors selling it!
The Raspberry Pi, a credit-card sized barest-of-bare bones accumulation of various basic PC chips and circuits being retailed for £22, is the brain-child of a Cambridge charitable foundation that hopes to inspire a new generation of computer programmers in the same way that the the home computer boom of the 1980's did. Judging from this morning's demand, it seems to have provoked the right effect!
The Pi is run from a common ARM chip using a version of the open-source operating system Linux. It has a USB port for a keyboard, an Ethernet port for internet access and an HDMI port for video output. Users have to supply their own keyboard and screen, or plug it into a TV set – just like old Sinclair ZX Spectrums and Commodore 64's of early computer yore!
If computer hardware and software is your thing, we have a considerable cornucopia of resources in print and in electronic format available to meet every taste. Why not have a browse of Library Catalogue Plus and see what we've got?
Raspberry Pi image copyright Blogee.net, reproduced under CC License from Flickr.