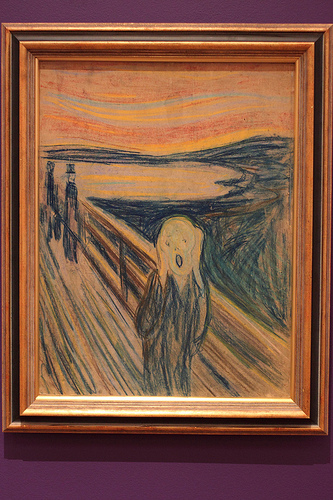 The only private copy of one of the world's most famous and recognisible modern paintings goes on auction at Sotheby's in New York today – and it can be yours for a mere $80 million!!
Norwegian expressionist artist Edvard Munch first painted The Scream in 1893. The version currently on sale was done in pastel in 1895 and has remained in private hands until now.
Munch famously described his work, inspired after a walk with two friends, as  "an infinite scream passing through nature." It's since been interpreted and admired in equal measures by artists, historians and psychologists alike as an enduring symbol of the modern human condition. Commercially, it's also been a great source for advertisers, fashion designers, novelty manufacturers and even film-makers – the title character of the horror film series Scream wears a mask based upon the figure in the painting.
If you're interested in finding out more about Edvard Munch, his life and work, including The Scream, we have a wide range of books about the artist in stock. There's also a wealth information among our Art & Design databases available through Library Catalogue Plus – Art Full Text and ARTbibliographies Modern (ABM) in particular.
The Scream painting picture by Solis Invicti, reproduced under CC License from Flickr.