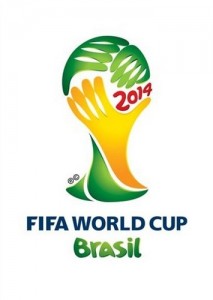 Football fans across the globe rejoice tonight as the 2014 World Cup Finals kick off in Brazil this evening, beginning a month-long sporting carnival featuring some of the finest football players in the world.
Hosts Brazil are the pre-tournament favorites and will be hoping to kick the ball running with a victory over Croatia in the opening game that kicks off at 9pm tonight. 30 other countries qualified for the tournament, comprising a total of 13 European sides, 6 South American, 5 African, and 4 each from Asia and North America. They've all been drawn into 8 groups of four teams. The eventual winner in the final, to be played on Sunday 13th July, can expect a prize of $35 million dollars, as well as the distinctive Silvio Gazzaniga trophy.
The tournament is being staged with a background of some controversy; there have been doubts about Brazil's ability to stage a safe & secure tournment following recent and ongoing domestic and social upheaval in the country. And FIFA, football's world governining body, is embroiled in a bitter dispute over the legitimacy (and wisdom) of the award of the 2022 Finals to Qatar.
You don't have to look far in the Library for something to read about football; we have a growing section of books down in our sports section on Level 2 devoted to the sport and its history. You can also read all about previous tournaments via our electronic newspaper archives, which are available to browse via Library Catalogue Plus. Though for many England football fans, such a dip back into the past may bring back unwanted memories…!!
Brazil 2014 World Cup logo by Cattias Photos, reproduced under CC License from Flickr.