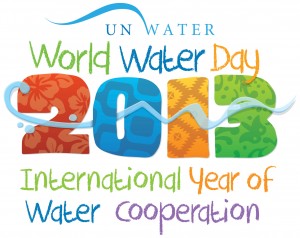 "Water, water everywhere, only if we share!"
No, that's not a general statement on weather conditions at the moment, but the winning slogan in a competition organised for this year's World Water Day, which is celebrated today.
Every year since its establishment in 2003, UN Water helps countries attempt to achieve water preservation goals and promotes key messages to the world in general. This years' theme seeks to highlight the importance of cooperation in striking a balance between different water needs and priorities, in order to share water equitably across the globe.
The University plays a significant role in preserving global water resources through the invaluable work of WEDC (Water, Engineering and Development Centre), based in the School of Civil & Building Engineering. WEDC is one of the world's leading education and research institutes for developing knowledge and capacity in water and sanitation for low- and middle-income countries.
For our part, we have access to a range of online resources on the subject, including Aqualine, Environmental Sciences & Pollution Management, and Water Resources Abstracts, as well as a large number of books and journals among our civil engineering collection on Level 1.
For more information about World Water Day and the work of UN Water, visit their website here:
http://www.unwater.org/water-cooperation-2013/events/world-water-day/en/