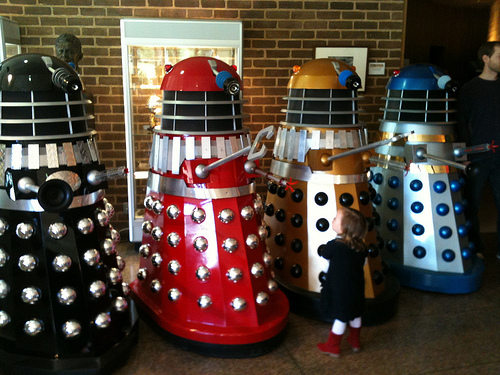 Ray Cusick, the designer of Doctor Who's iconic alien villains the Daleks, died at the weekend aged 84.
Then a jobbing staff designer at the BBC, Cusick was called upon in late 1963 to create the costume for a creature to be featured in the second ever story of the long-running science fiction serial, rather ironically substituting another budding young designer named Ridley Scott who had originally been detailed with the job but had to pull out after a scheduling conflict!
Working from a script by screenwriter Terry Nation, Cusick legendarily gained the inspiration for the classic pepper-pot design during a meeting in the BBC canteen – and the rest is history!
Somewhat infamously though, the terms of his BBC contract meant that Cusick never properly benefitted from the success of his design and the huge revenue it has gone on to generate, receiving only an ex-gratia payment of £100 (and a Gold Blue Peter badge!) from the corporation some years after. But his design has left quite a legacy, inspiring generations of watching children (and not a few adults!) to take cover behind the sofa at the sight of them and the sound of their grating war cry "Exterminate!"
Doctor Who itself celebrates its fiftieth anniversary this year and a fresh run of adventures starring the Time Lord's latest incarnation, Matt Smith, begins showing on TV at Easter. But you needn't wait that long for your Dalek fix – we have a wide variety of books about the history and appeal of the series in all its many formats, and a selection of classic 1970's adventures starring Third Doctor Jon Pertwee among our DVD collection in the High Demand section. Dare you take to a trip to the Planet of the Daleks some time…?
Daleks image by Rose Holley, reproduced under CC License from Flickr.