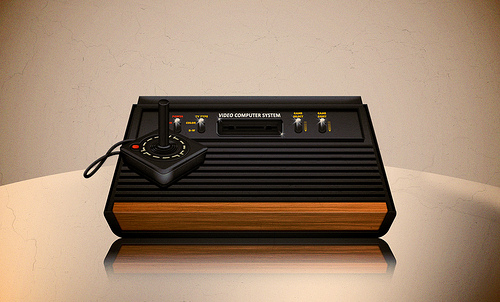 If you want to give your fingers (and mind!) a break from revising, then why not take a trip down memory lane courtesy of those clever people at the Internet Archive and settle down in their Console Living Room to zap a space invader (or several!).
The Internet Archive Console Living Room take you back to the golden days before even the home computer boom of the early 1980's, when video game firms such as Atari and Sega brought the arcade into the living room through chunky plug-in cartridge console systems (such as the Atari 2600 pictured above) that connected directly to your TV (subject to parental permission!). The forebear of modern gaming systems such as the Nintendo, the PlayStation and the Wii, the games they provided were composed of simple graphics with even simpler rules – no novel-sized instruction manuals or PDF files!
The archive makes use of an emulator system, which allows direct access to these programs in your browser with no additional plugins or settings, although they work best on a modern browser.
If this piques your interest, or you want to find out more about how modern computer games are programmed, we have a wide range of material amongst our stock, both online and in hard copy, examining the gaming industry and its cultural, social and economic impact down the decades. Those interested in creating and designing their own games are also catered for among our extensive computer programming section.
Happy zapping!
Atari 2600 console by Alan Klim, reproduced under CC License from Flickr.