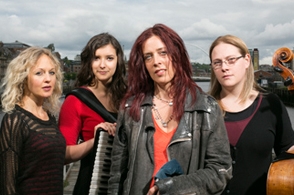 A host of award-winning artists and musicians will be visiting the campus this term.
Author Blake Morrison, whose novel The Long Weekend was recently dramatised on ITV, will be talking about his life and career at the Martin Hall Theatre at 7PM on Thursday 24th October. He will be reading from his works and afterwards will be available to sign copies of his books.
 On Friday 1st November from 7PM in the Leonard Dixon Studio at the Martin Hall writer and theatre maker Martin Pinchbeck will be presenting three works inspired by the works of Shakespeare under the umbrella title of The Trilogy. The Beginning, an interpretation of A Midsummer Night's Dream, The Middle, a deconstruction of Hamlet, and The End triggered by a stage direction form The Winter's Tale. Fusing an experimental approach to Shakespeare's text with the company's personal stories about their first and last times onstage, The Trilogy asks the audience to enter a world where a perfomance can be a rehearsal, text can be both script and set and they are always aware of where the fire exists are.
On Wednesday 6th November at 7PM in the Cope Auditorium the Gould Piano Trio will be playing a selection of Mozart, Smetna and Schubert. Regularly featured on Radio 3, the Trio are one of the UK's leading ensembles, having established, over their 20 year history, an enviable reputation at home and abroad for their compelling style, integrity and imagination.
Music is said to aid the digestion, so why not take your sarnies along to a Lunchtime Concert at the Art Cafe in the Cope Auditorium starring the Cardinal Saxophone Quintet who will be performing a foot tapping programme of saxophone originals and arrangements of popular music. Better yet, it's free!
Folk music fans are in for a treat when Kathryn Tickle and the Side (pictured above) visit the Martin Hall Theatre on Wednesday 27th November (doors 7PM). Channelling their diverse musical experiences into a powerful new sound The Side stay true to the spirit and essence of Kathryn's own Nurthumbrian folk tradition whilst unleashing the talent and creativity of each individual musician.
On Monday 2nd December Speech Bubble, the Lufbra Poetry Jam, blows up again in the Cognito Bar at the Student Union from 7PM.  Featuring the performing talents of students, locals and professional mentally-muscled, pencil-pushers in a night of oral entertainment.
Christmas isn't all that far off really, and to help give you that festive feeling the University Choir, aided & abetted by the University String Orchestra, will be performing Charpentier's Messe de Minuit – music for Christmas Eve based on French Christmas folk songs – at the Cope Auditorium from 7PM on Wednesday 4th December.
For full details, ticket prices and booking links, visit the Loughborough University Arts page here: