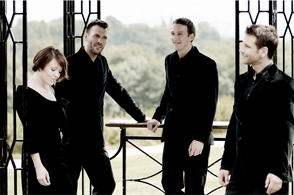 There's a wide range of musical and artistic events to look forward to on campus during the Spring Term.
Radar, the University's own arts programme, kicks off the New Year with an intriguing new installation work, Product Pleasure, which is being hosted in a kiosk on Market Street in Loughborough town centre! Academics within the University Design School have been exploring how consumers see products as sensorial, emotional and meaningful experiences, not merely as objects to deliver a service, and artists Jeremy Hutchison and Cecile B. Evans have been asked to respond to these questions and the research that is taking place within the Design School through these installation works. Jeremy Hutchison begins with his commission which is launched on Friday 10th January at 6pm, and continues throughout the following week from 11am daily until Saturday 18th January.
On Wednesday 22nd January award-winning guitarist Alan Thomas will be providing a free lunchtime performance of classical and Spanish guitar favourites, and timeless Lennon/McCartney compositions in the Art Cafe at the Cope Auditorium at 12pm.
Eden Flix continues their season of hard-hitting documentary films with an environmental twist with a showing of How Much Does Your Building Weigh, Mr. Foster? introduced by Professor Jacqui Glass, Professor of Architecture & Sustainable Construction in the School of Civil and Building Engineering, on Wednesday 29th January at 3pm (free entry, but booking is necessary). The film traces the rise of one of the world's premier architects, Norman Foster, and his unending quest to improve the quality of life through design.
On Wednesday 12th February the Heath Quartet (pictured above) will be playing at the Martin Hall Theatre from 7pm. Formed in 2002, the Heath Quartet is already establishing a strong international presence, having performed at prestigious festivals and venues across the UK, Europe and further afield.  In 2013 they won the prestigious Royal Philharmonic Society's Young Artists Award, the first ensemble in 15 years to win it, and in 2014 they make their Carnegie Hall debut. In this programme they will be performing works by Mozart, Tippett and Mendelssohn.
And on Monday 17th March from 7pm in the Cognito Bar at the Student Union, Speech Bubble will be blowing up for another scintillating evening of the finest poetry and spoken word by professional wordsmiths and student talent.
On a negative note, An Evening with Richard Mabey, arranged for Wednesday 29th January at the Martin Hall, has had to be cancelled owing to ill health. Those who have already purchased tickets need to contact the box office on 01509 635000 to arrange a refund.
Full and complete details of these events can be found via the Loughborough University Arts website here.