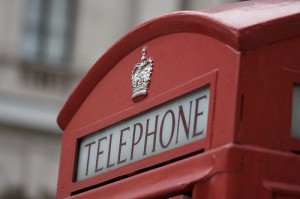 Villagers in the aptly-named Gloucestershire village of Box have come up with a 'novel' use for their recently decommissioned British Telecom phone box… they've turned it into a mini lending library!
Although not as infinitely capacious as Dr Who's TARDIS, this phone box currently contains around 40 books, all donated by the villagers, which people can borrow for as long as they like, whenever they fancy a read… with no fines for late returns either!
The kiosk was bought from BT – for the princely sum of £1 – because the villagers wanted to keep what they believed was an "integral part" of the local area. The idea to turn it into a library apparently was inspired by an episode of the BBC radio serial The Archers!
This isn't the first time a local community have found such a literary use for an old phone box – villages in Derbyshire and Hampshire have already done so – besides other 'interesting' uses as well. Villagers in Shepreth, Cambridgeshire converted their kiosk into a temporary pub for the local village fete following the closure of their local inn!
BT have said that the Box 'Box' was the 1,500th phone box in the UK to have been adopted by its local community – a remarkable form of preservation for one of the most enduring icons of 20th century British heritage.