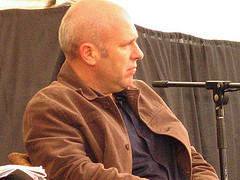 Congratulations to Australian author Richard Flanagan (pictured) who last night won the prestigious £50,000 Man Booker Prize for his stirring wartime novel The Narrow Road to the Deep North.
The selection for this year's prize caused some controversy when the competition was opened to all authors writing in English, provoking many to believe that the contest would be dominated by American authors, who were previously excluded; though ultimately this year's shortlist included only two Americans, along with three British and one Australian.
We'll be getting a copy of Flanagan's novel in due course, but we do already have a growing selection of previous Booker winners and nominees among our Leisure Reading section on Level 4, including last year's winner The Luminaries by Eleanor Catton. Why not pop upstairs and have a browse?
Richard Flanagan image by Anetz, reproduced under CC License from Flickr.