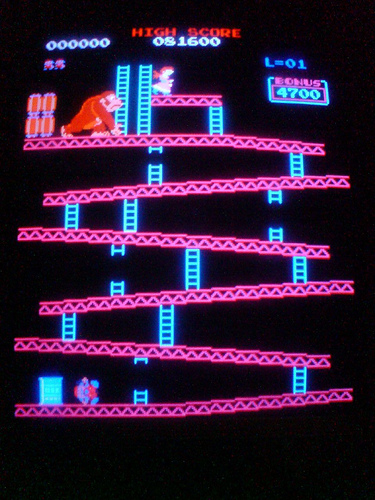 Today marks the 32nd birthday of one of the most popular and influential video games of all time, Donkey Kong.
A deceptively simple but classic example of the 'platform game' genre, Donkey Kong finds the player engaged in an increasingly tricky series of screens as they attempt to save the hero's girlfriend from the eponymous villainous ape.
Initially created as an arcade console game by Nintendo and released in July 1981 as an attempt to break into the lucrative American arcade market, Donkey Kong became a raging success across the world, eventually leading to an even more popular series of spin-off games starring Donkey Kong's everyman plumber hero, Mario.
Computer games may have technologically moved on from the clunky, 10p-gobbling wooden cabinets of the 70's and 80's, but their appeal shows no sign of abating. We have a wide range of material amongst our stock, both online and in hard copy, examining the gaming industry and its cultural, social and economic impact down the decades. Those interested in creating and designing their own games are also catered for among our considerable computer programming section.
(No, you don't need to climb any girders to get them, even if the Library building is currently closed and covered in scaffolding – if you spot a book you'd like to read, just request it via Library Catalogue Plus, and our own team of Super Mario Bros will do the rest!)
Donkey Kong screenshot by Mister Snappy, reproduced under CC License from Flickr.