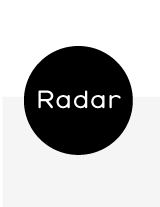 The Radar Artspace at the Edward Herbert Building is hosting a new interactive project this Wednesday lunchtime (22nd March) between 1-2pm.
Crazy Like Machines is a dance and visual art project with a social and political backdrop which aims to build an accessible and informal educational methodology to develop an innovative model of collaborative research and participatory performances.
Pushing the boundaries between verbal and non-verbal communication to explore the role of immediacy and mediation in drawings and dance to create cohesion in the group, the audience is encouraged to be actively part of an ongoing creative process in the form of performative workshops in order to build a 'personal and non-linear visual narrative manifesto'.
Chiara Dellerba is a visual artist whose work experiments with the potential energy of the human body. Her pieces are often site-specific with an interest in the dichotomy between energy/movement, and time of reaction/determined space. Dellerba's practice is an organic open work structure of experimentation using a system of signs and methodologies. She investigates the unconscious necessity for human beings to regenerate their lives, their environment, their relationships, and their way of perceiving a reality in order to be actively part of it.