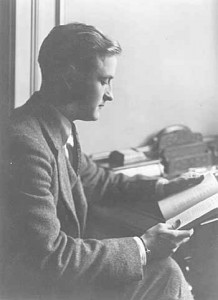 The University of South Carolina have recently made available an archive that offers a unique insight into one of the leading American novelists of the 20th century, F. Scott Fitzgerald.
Between 1919 and 1938 Scott Fitzgerald kept a concise journal in a 200-page handwritten ledger encompassing a year-by-year record of his life and achievements including publication details of all his works and the income of both himself and his wife Zelda, revealing for instance that he made merely $2000 on The Great Gatsby on its first publication in 1925, but earned a more princely $16,666 on selling the film rights to the novel the very next year!
The ledger has been thoroughly digitised, including full-text access and is keyword-searchable. It occupies pride of place in the University's Matthew J. & Arlyn Bruccoli Collection of F. Scott Fitzgerald, the most comprehensive research collection of the author's life and work.
We have a large collection of works by and about Scott Fitzgerald among our own literature collection, including The Great Gatsby and his other novels, plus you can access a vast store of online articles and essays about the man through English literature databases such as Literature Online through Library Catalogue Plus.
F. Scott Fitzgerald portrait, circa 1920, reproduced under CC License from the Minnesota Historical Society.