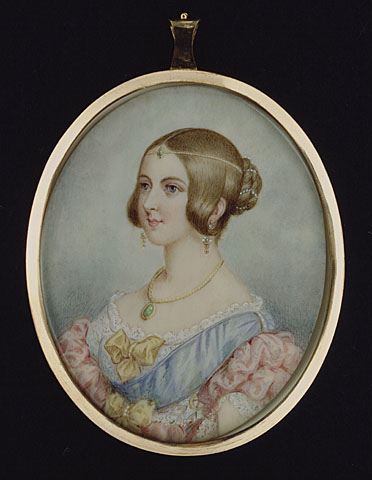 To mark the Diamond Jubilee – and the 193rd anniversary of her birth – the complete collection of Queen Victoria's private diaries is being made available to the public for the very first time online.
141 volumes of her day-to-day journal survive, including 13 in her own hand, and span from her childhood through her entire reign, beginning with her first entry as a 13-year old Princess and ending with one made only days before her death at the age of 81 in 1901, recording every facet of her life including her accession to the throne in 1837, marriage to Prince Albert (1840), the Crimean War (1853-56), and her own Diamond Jubilee in 1897.
The diaries have been made available by the Royal Archives and the Bodleian Libraries at Oxford University. It took four months to scan all the journals at Windsor Castle, where they have been stored, and they are now freely available to browse via the Proquest platform from this link:
www.queenvictoriasjournals.org
Minature portrait of Queen Victoria by Franz Winterhalter c.1840, courtesy of BiblioArchives, reproduced under CC License from Flickr.