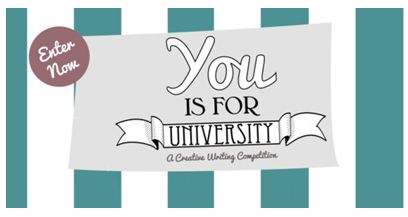 Would you like the chance to have your creative work printed and published in a brand new short story collection AND win some fantastic prizes into the bargain? Then the You is for University contest is for 'you'!
Run by the Student Wordsmith website and aimed at universities, students and young people thinking of coming to university,  the competition is inviting new poetry, short prose fiction, or short dramatic piece on university life. All selected entrants will have their work featured in the collection and receive their own signed copy of it to see their work in print, and prizes will be awarded to the best overall entries.
The Student Wordsmith is an online creative, literary platform, for budding writers, set up by creative writing Postgraduate student, Sophie-Louise Hyde. This year, it aims to print, and publish, its first collaborative collection – providing students with help and advice on university life and what to expect of higher education.
The closing date for this competition is Friday 14th June 2013. For further entry details and terms & conditions, visit the Student Wordsmith site here.
If your creative writing juices are a bit clogged up, though, don't forget that we have a large number of books on the subject offering helpful hints and advice down among our literature section on Level 2 that should help stir your creativity back into action.