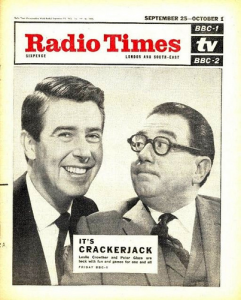 The BBC this week launched a new online service that allows you to search through complete schedules of their seminal listings magazine, Radio Times.
The Genome Project has digitised listings from nearly 4,500 issues that cover everything broadcast by the BBC on their radio and television channels between the years 1923 to 2009, and though at present the database only contains basic information such as capsule synopsis and programme details and a brief cast/credit list, they aim to include images later.
Nearly 4.5 million programmes are covered, including old favorites such as Doctor Who, Fawlty Towers, Monty Python – and Crackerjack! – along with details of the BBC's coverage of major sporting and historical events including Olympic Games, World Cups and Moon landings. So now you can find out what was on TV the day you were born!
Although ITV listings are not included owing to copyright issues, you can access an archive of the TV Times, ITV's 'answer' to Radio Times, by visiting the BUFVC database's TV Times listing archive, which covers the period 1955-1985 (please note you will need your Athens username & password to access this service).
Radio Times cover by Bradford Timeline, reproduced under CC License from Flickr.