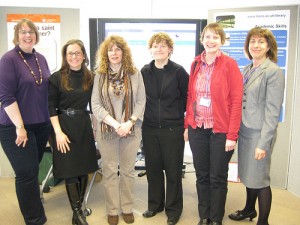 We're pleased to report that the E-Learning Showcase yesterday was a raging success, and that the Library stands have never been busier – we even had people lining up to discuss copyright with us at one point!
The stands covered copyright and e-learning, development of students' academic skills and in particular the Academic Practice module, encouraging students to read for academic purposes, and plagiarism avoidance. 
If you missed the event (shame on you!) but have any concerns about any of the topics covered, don't worry – you can catch up by contacting your friendly neighbourhood Academic Librarian. The photograph above shows but a small selection from our extensive knowledgeable & cheerful range!