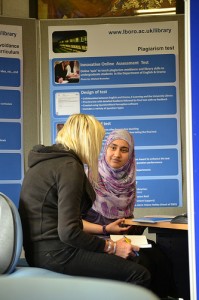 If you would like to discover how the Library can help your students further develop their academic skills, avoid being a plagiarist or undertake more effective reading to suport their studies, then visit our stands at the annual staff E-learning Showcase, E-learning Essentials on Wednesday 1st Feb from 11.00 am – 2.00 pm in Keith Green Building.
Prior registration is NOT required and a buffet lunch including hot and cold drinks – and wine – will be provided.  In addition to the Library, there will be a  range of stands, poster presentations and live demonstrations on other e-laerning trends, so whether you're interested in finding about more about the ReVIEW lecture capture system, or you have a specific query about Learn, this event is for you.  As you may be aware, the University is planning to migrate Learn this summer from Moodle Version 1.9 to Version 2 which is a major upgrade, so there will be colleagues from the E-learning Systems team in IT Services on hand to answer your questions and give you a sneak preview of some of the new features.
Professor Chris Linton, Provost and DVC, will be giving a welcome at 11.30. At 1pm there will be a half-hour debate on the future of e-learning in HE in the context of rising fees and student expectations. The debate will be introduced by a short ReVIEW video presentation by Jayde Savage, VP Education of the Students' Union.
And in case the subject of this announcement caught your eye – if you come along with your business card and have it stamped by 5 or more stands, you can enter a prize draw for a new Kindle e-book reader!