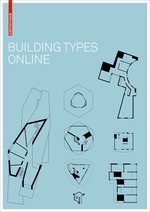 Architects, artists and building engineers may find our latest database trial of great interest to them.
The database Building Types Online draws on the expertise and the high international standing of Birkhäuser and comprises the knowledge and content of selected Birkhäuser manuals in typological order. The approx. 850 case studies are documented with texts by authors who are experts in their fields and with approx. 5000 architectural drawings of high quality as well as 2000 photographs of the buildings.
Using a systematic and analytical search and browse structure that allows all kinds of combinations, the database provides solutions for numerous design tasks in study and practice. This tool will facilitate research on building typology and architectural design assignments.
Thematic articles provide background information on individual building types or explain specific aspects such as lighting, acoustics, urban considerations, access types or planning processes. The users, be they in academia, architectural practice or students, will be offered a comprehensive online resource on building types based on seminal buildings of the past 30 years. Housing as one of the most frequent design tasks forms a large focus of the database.
To begin searching go to www.degruyter.com/db/bdt – access is via IP address and the trial runs to 31st July 2017.
A user guide is available at: https://www.degruyter.com/staticfiles/pdfs/User_Guide_Building_Types_Online_EN.pdf
We welcome feedback – good or bad – on this trial, please contact Steve Corn s.c.corn@lboro.ac.uk with your comments.