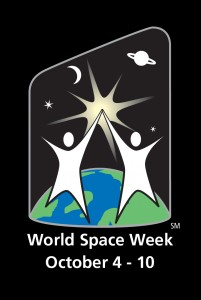 Today marks the beginning of World Space Week, an annual international celebration of the many benefits of the exploration of outer space.
This year's theme for the event is "Space for Human Safety and Security", which seeks to extol the virtues of how much Earth observation, navigation and telecommunication satellites are used everyday to protect humans and safeguard our environment.
Chosen specifically for this date by the UN General Assembly to mark the succesful launch of Sputnik 1, the first man-made satellite, on October 4th 1957, and the signining of the 'Treaty on Principles Governing the Activites of States in the Exploration and Peaceful Uses of Outer Space, including the Moon and Other Celestial Bodies' on October 10 1967, World Space Week has been held every year since 1999, and seeks primarily to educate people about the positives of space exploration and encourage better public understanding and support for space programmes.
We're very keen on space in the Library, and not just the kind students look for for studying in! We possess a large range of material about space flight and the history of astronautics, including access to NASA's Scientific & Technical Information (STI) web site among our extensive array of Aeronautical databases.
For more information about World Space Week, including an opportunity to participate in a 'Tweet-up' with legendary Apollo astronaut Buzz Aldrin, visit their website here: