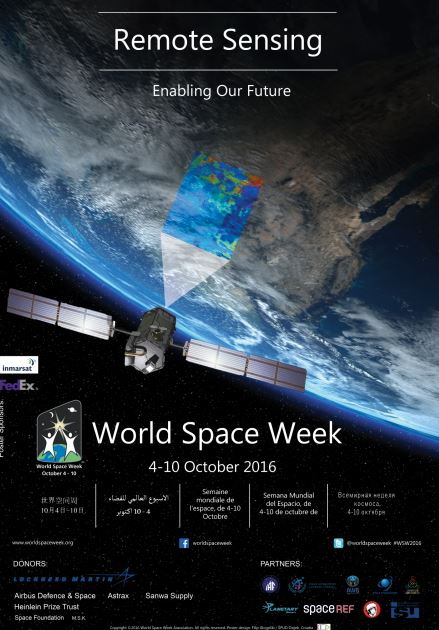 This week is the start of World Space Week, the worldwide annual celebration of the marvels and mysteries of astronautics, astronomy and all things cosmic.
Launched specifically on 4th October by the UN General Assembly to mark the successful launch of Sputnik 1, the first man-made satellite, in 1957, and the signing of the 'Treaty on Principles Governing the Activities of States in the Exploration and Peaceful Uses of Outer Space, including the Moon and Other Celestial Bodies' on October 10th 1967, World Space Week has been held every year since 1999, and seeks primarily to educate people about the positives of space exploration and encourage better public understanding and support for space programmes.
This year's theme is "Remote Sensing: Enabling Our Future," an inward looking theme which celebrates Earth Observation from Space for the betterment of the human race, highlighting a host of classic Earth Observation missions such as the U.S. Landsat mission, the work of intergovernmental groups such as GEOSS Group on Earth Observations and emphasizes applications such as environment and agriculture monitoring, land use mapping and new uses such as location based services.
Fittingly, we have access to the National Geophysical Data Centre database, which provides the latest satellite geophysical data from the Sun to the Earth and Earth's sea floor and solid earth environment, including Earth observations from space, and the NASA Scientific & Technical Information database, which includes up-to-date information about NASA's satellite projects. We also hold a large number of books about satellite communications & navigation among our collection, along with a good selection of books about space & space exploration  in general.
To find out more about World Space Week, visit their website here: