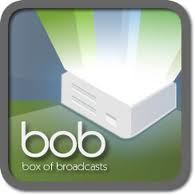 As part of our ongoing project to move all of our resources to a Single Sign-On system from Athens authentication we have just completed transferring Box of Broadcasts (BoB) across to this new system, and we encourage users to take the following steps to ensure their access is uninterrupted.
Clear any cookies on your PC.
Either from the Library Catalogue, or from any other link, please update your BoB bookmark to: https://login.learningonscreen.ac.uk/wayfless.php?entityID=https%3A%2F%2Fidp.lboro.ac.uk%2Fsimplesaml%2Fsaml2%2Fidp%2Fmetadata.php&target=https%3A%2F%2Flearningonscreen.ac.uk%2Fondemand . This should enable you to link direct from on-campus without the need for any login and from off-campus would direct you to the blue Loughborough University login screen.
The first time you use this route you should be asked to re-register and then there should be a pop-up giving you the option to import playlists and so forth. This can be a bit slow in appearing, though some users may find that their playlists automatically migrate across.
Once you have re-registered and imported your lists subsequent access will be much simpler and quicker.
If you are using BoB for teaching purposes please re-register ASAP so that we can address any problems with playlists etc. before teaching commences.