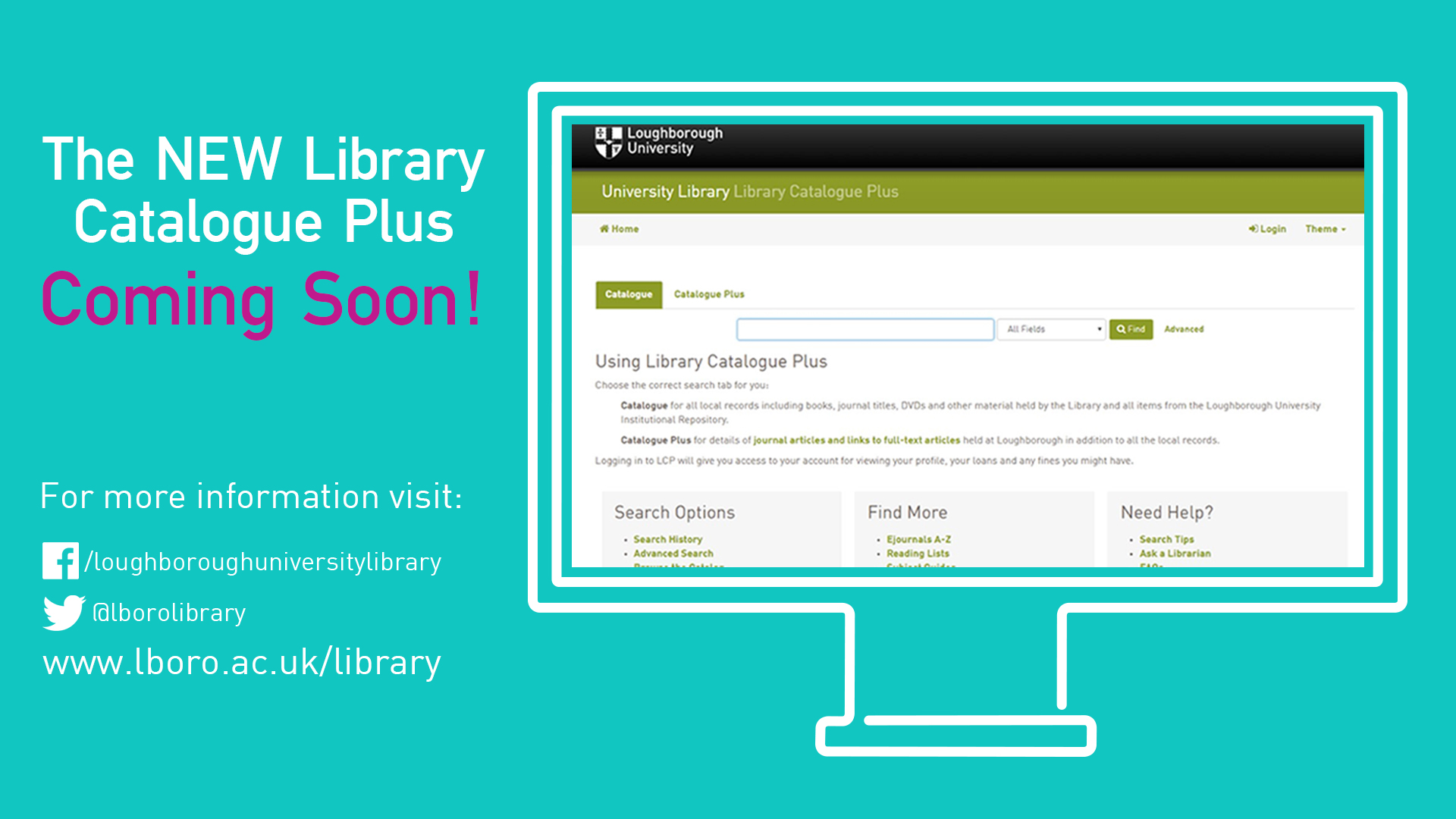 At the beginning of Semester 2, the Library plans to launch our new and improved Library Catalogue Plus interface. User testing has been positive, with people really liking the clear screens and updated results page. As an added bonus, the new interface will soon be available on the myLboro app, so users will be able to access their accounts and renew books easily while on the go.
During the switchover which is planned to occur between 31st January and 5th February you will still be able to search for and access library materials in print and online and Library staff will be available to help. You can return books at the help desk but borrower accounts won't be updating until after the new catalogue has gone live. All long loan books have been extended until 18th February and we won't be charging fines on any overdue items whilst the system is being updated.
The new catalogue should be available on 5th February and we would welcome any feedback.
FAQs
Do I need to return my books?
You can check your library account now to see what items you have on loan and be sure of return dates. Any long loan book that is currently issued to you won't be due until 18th February. Please keep an eye on your University email address for any communication from the Library.
I've got items saved on my e-Shelf, will they still be there after the upgrade?
If you have stored records on your e-Shelf in the current catalogue we would encourage you to download them or export them into Mendeley as they won't be carried over to the new system. You can find further information about Mendeley on our website pages or contact your Academic Librarian for advice.
Do I need to update my bookmarks?
If you have bookmarked the current catalogue http://lcp.lboro.ac.uk this will redirect you to the new interface. Any links to individual items or particular searches won't be saved. Please contact your Academic Librarian for any advice.
I'm an academic, will the change affect my reading list?
The new catalogue won't affect your reading list and all links to books and online articles will continue to work as normal. Contact your Academic Librarian or email us if you have any queries about reading lists.
I'm at the London campus, will this change affect me?
The new catalogue will be available to all staff and students in Loughborough and London. During the switchover you can still return books to the London Library but not take out any items until the help desk opens on Monday 5th February. Please email library@lboro.ac.uk if you have any queries.
I've got feedback on the new catalogue where can I send it?
We're happy to receive feedback and any suggestions you have so please email library@lboro.ac.uk or tweet us @lborolibrary
More information and quick guides will be available from the Library's website soon.