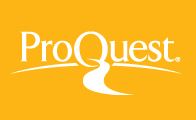 This Saturday, February 13th, ProQuest will be performing critical maintenance across its platforms. The downtime window is scheduled to begin at 10:00 PM EDT and will last for 6 hours.
During this time, access to all ProQuest products will not be available, and users will be re-directed to a webpage explaining the scheduled maintenance.
ProQuest apologise in advance for any inconvenience.