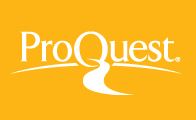 On Saturday January 16, 2016, ProQuest will be upgrading its systems infrastructure to improve performance, security, and overall reliability of its products. The window is scheduled to begin at 10:00pm Eastern Standard Time and will last for 8 hours.
During this time, access to all ProQuest products will not be available, and users will be re-directed to a webpage explaining the scheduled maintenance.
This upgrade will effect all the databases we subscribe to on the ProQuest platform, including RefWorks.
We apologize in advance for this inconvenience. Please contact ProQuest Global Technical Suppor if you have questions or need assistance.