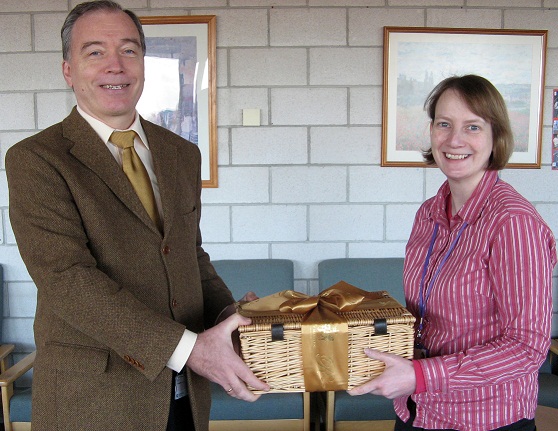 We are delighted to announce that the 10,000th item has been added to Loughborough University's Institutional Repository. The submitter of the 10,000th item was Vadim Silberschmidt, Professor of Mechanics of Materials in the School of Mechanical and Manufacturing Engineering.
Vadim is pictured above receiving his prize – a festive hamper – from the University Librarian, Ruth Jenkins.
Professor Silberschmidt has over thirty journal articles and conference papers in the Institutional Repository. The winning submission, co-authored with PhD student Xianan Hou and Memis Acar, Professor of Mechanics, is available on the Repository at: https://dspace.lboro.ac.uk/dspace-jspui/handle/2134/10846
As one of the largest full-text university repositories in the UK, Loughborough's Institutional Repository reflects a successful partnership between the Library and Academic Schools and Departments across the entire University. In 2012 the Repository was fully integrated with the University's new publication information database, LUPIN, resulting in a 47% increase in submissions. Containing a range of items including full-text journal articles, conference papers, book chapters, official reports, PhD theses and audio-visual material, the Repository is an impressive online collection of the University's research output. With the majority of items available on open access, centrally stored and preserved, the Repository ensures that Loughborough University's research output is freely available to the wider research community, thus increasing its impact and citation rates.
For further information on the Institutional Repository and how to submit your publications via LUPIN, please see our web pages at:
http://www.lboro.ac.uk/services/library/online/repository/
Or contact us in the Library at 01509 222338 / 222363 or email repository@lboro.ac.uk