From Monda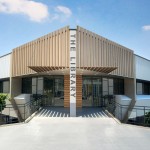 y 30th September, the University Library will be implementing barrier access controls. This means you need your ID card for both entry to and exit from the building and to borrow any material from the Library.
By asking you to scan in and out of the building, we are able to ensure the building doesn't exceed its fire safety occupancy level. It also means we are able to gain valuable information about how people use the building to help us with business cases to the University.
Please note:
■ Our Reception Desk at the main entrance will continue to be staffed whenever the building is open to help you out.
■ If you have forgotten your ID card, please speak to the staff member at the Reception Desk who will be able to issue you with a temporary pass. You will be required to provide alternate photo ID to verify your identity in order to be issued with a pass.
■ A maximum of 3 temporary passes will be issued within a calendar year. This will be recorded on our Library system. If you arrive at the Library on a 4th occasion without your ID card, you will be denied access to the building.
■ If you have lost your ID card or it has become damaged, you should report it to the Card Office at the Student Accommodation Centre. A temporary pass will be issued to you if you have lost your ID card or reported it as damaged but please be aware that this pass will count towards your quota of 3.
■ Members of the public or other external visitors who wish to use the Library for reference purposes can, upon production of appropriate photo ID, register at the Reception Desk for a daily access pass. We reserve the right to restrict access to the Library during peak exam periods.