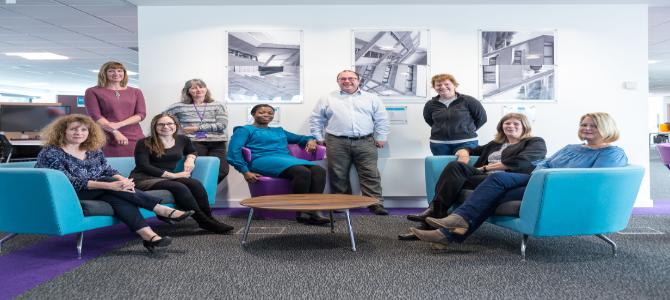 It's a busy time for staff as well as students, and while we try to answer every question at our information desks, sometimes you might need a little more specialist help – and that's where our ever-helpful team of Academic Librarians come into play!
Our Academic Librarians are available to assist all University staff and students, offering specialist 1-2-1 advice on any information related query including academic skills, referencing, conducting a literature review and getting published. They have all developed expertise in the subject areas of their Schools and are happy to help.
Teaching and departmental commitments mean they're not always in the office, but don't worry – most of them run specialist drop-in sessions in their departments across campus, where you can just pop by and ask them any question about any issue or problem with your studies.
We run the sessions on the following days during term-time:
Monday:
12.30 – 1.30 Civil and Building Eng / Civil Foyer [Ginny Franklin]
2.00 – 3.00 PHIR / Herbert Manzoni, Near admin office [Sharon Reid]
 Wednesday:
12.00 – 1.00 Social Sciences / Brockington U305 [Nathan Rush]
Thursday:
10.30 – 11.30 English / Martin Hall break out area [Jen De Lilo]
11.00 – 12.00 Computer Science / Haslegrave, ground floor [Charlotte Greasley]
12.30 – 1.30 AACME / S Building foyer [Ginny Franklin]
12.30 – 1.30 Wolfson & Chemistry / Mezzanine seating area STEMLab [Alison Ashmore]
Or by Academic Librarian name:
Alison Ashmore Academic Librarian for Wolfson School & School of Science – Chemistry Drop-in hours: Thursdays 12.30-1.30, Mezzanine seating area, STEMLab
Jen De Lillo Academic Librarian for School of English, Arts and Drama – English Drop-in hours: Thursdays 10.30-11.30, Martin Hall break out area
Ginny Franklin Academic Librarian for Architecture, Building and Civil Engineering. Drop-in hours: Mondays 12.30-1.30 in the atrium (Sir Frank Gibb) and Academic Librarian for Aero, Auto, Chemical and Materials Engineering. Drop-in hours: Thursdays 12.30-1.30 in the S Building foyer.
Charlotte Greasley Academic Librarian for School of Science – Computer Science Drop-in hours: Thursdays 11.00-12.00 in Haslegrave, Ground Floor
Sharon Reid Academic Librarian (PHIR) Drop-in hours: Mondays 2.00 – 3.00 in Herbert Manzoni, Near admin office
Nathan Rush Academic Librarian (Social Science and Psychology) Drop-in hours: Wednesday, 12.00-1.00, in Brockington U305
Further contact details can be found on our web page:
http://www.lboro.ac.uk/services/library/students/learningsupport/academiclibrarians/