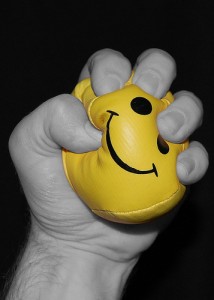 Today is National Stress Awareness Day, and while term only started just over a month ago, it's never too early for this particular bug to strike – even at the best of times!
Fortunately the University is well equipped to help students deal with the strains of a busy academic life. The University Counselling Service offers a broad range of services ranging from one-to-one meetings with their helpful staff of fully trained counsellors, to online self-help resources and workshops tackling a variety of issues and topics including homesickness and meditation.
We try to do our bit in the Library too! We've prepared our own advice sheet offering helpful tips on how to minimise stress, and one of our Academic Practice modules, 'Getting Organised' is tailored towards helping you avoid stress by improving your study style.
And just as the old saying used to go "if you want to know the time, ask a policeman", in the Library, if you're getting stressed about finding information for your coursework, don't panic – "ask an Academic Librarian!" They're all specialists in the knowledge areas for your particular Schools, are very friendly and just love being asked questions!
Image by bottled_void, reproduced under CC License from Flickr.