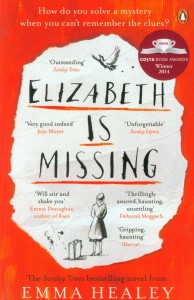 Why not take the edge off your exam preparations by joining in with the next meeting the Student Book Club on Monday 18th May, when the novel up for discussion is Emma Healey's award-winning thriller Elizabeth is Missing. 
We'll be meeting in the Library Staffroom as usual at 7pm – just ask at the Customer Services Desk for directions. All copies of the book have now been borrowed for the meeting, but you can still buy it for your Kindle or from local booksellers
For more information about the Club, please contact Sharon Reid at the Library: S.D.Reid@lboro.ac.uk, ext. 222403, or why not join the discussion on our Facebook page?