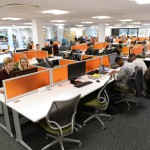 Anyone that knows a librarian, will know we love a good statistic! It's great to see the Library so busy on the first day of term, so we have taken five minutes to see what statistics we have got for you….
Yesterday we had 2847 visits to the Library, issued 2246 books, had 462 books returned and answered 1159 enquiries – more than one a minute.
We hope you find everything you need when you are here, but please feel free to ask one of the staff for assistance – we will be happy to help.