Every year the Library holds a photography competition and this year we would like your Instagram photos that capture your take on 'extreme reading'.
Whether it be on the beach, with the family cat, or (like Pilky) whilst doing a handstand, we want to see your pics! All we ask is that whatever you're doing, please take care. This is about being imaginative, not putting yourself in danger – for example, as Katie demonstrates, if you're going to get yourself pictured with a dinosaur, make sure it is extinct first!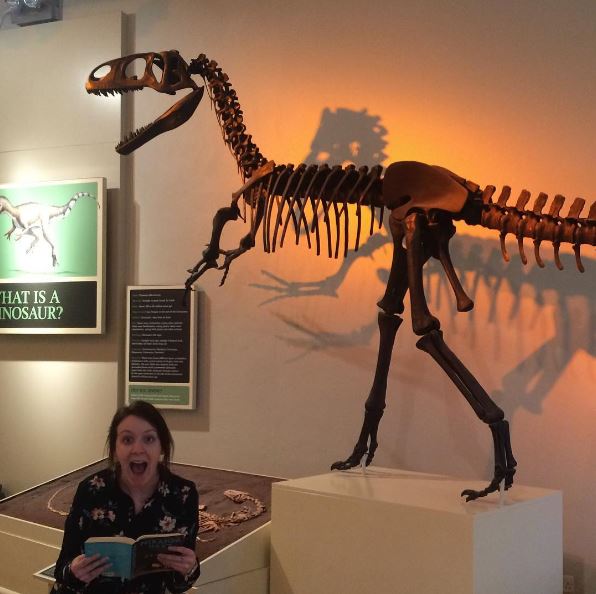 Our 2016 competition will run from 27th January to 11th March 2016
Entrants can submit up to 3 of your own Instagram photos.
Each entry must have a title.
There are no restrictions in the use of any digital enhancements.
The competition is open to Loughborough University employees and students.
Entrants must obtain permission from anyone appearing in their entry.
When Instagram photos are submitted, entrants to the competition should provide their name, address, telephone number, e-mail address and also their position in the University and where the photo was taken. The University Library will only ever use your personal details for the purposes of administering this competition, and will not publish them or provide them to anyone without your permission.
We will select a number of Instagram photos to go on our Facebook page and then the University Library marketing group will make the final decision. Selection will take place after 11th March and a message will be placed on our Facebook page.
The 3 best entries will receive £50 Amazon vouchers each.
Entries should be sent as a link to the Instagram photo to k.l.jeffers@lboro.ac.uk by 11th March 2016.
Full details of terms & conditions can be found via this link:
http://www.lboro.ac.uk/services/library/feature/2016-instagram-competition/
Best of luck!