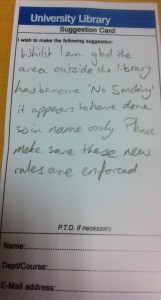 As users may have seen, the University has decided to make the area directly outside the Library a no smoking area.
Despite the A-board and signage that has been added and the construction of a designated smoking shelter across the road, people still occassionally huddle under the canopy to protect themselves from the elements.
Library staff do periodically go outside and inform smokers that they need to go across the road. If you encounter any problems, please either ask a member of staff at the counter or email the Customer Services Manager.