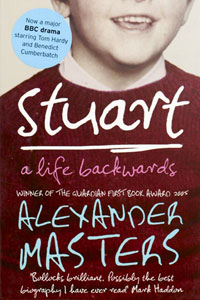 The Student Book Club meets for the last time this year when the book up for discussion will be Alexander Masters' Stuart – A Life Backwards, which was recently filmed by the BBC starring Tom Hardy and Benedict Cumberbatch.
Unfortunately all of our copies of the book have been borrowed ahead of the meeting, but you can still pick up a copy from your friendly local bookseller.
We'll be meeting in the Library Staffroom at 7pm next Monday 7th December. For more information about the Club, please contact Sharon Reid at the Library: S.D.Reid@lboro.ac.uk, ext. 222403, or why not join the discussion on our Facebook page?