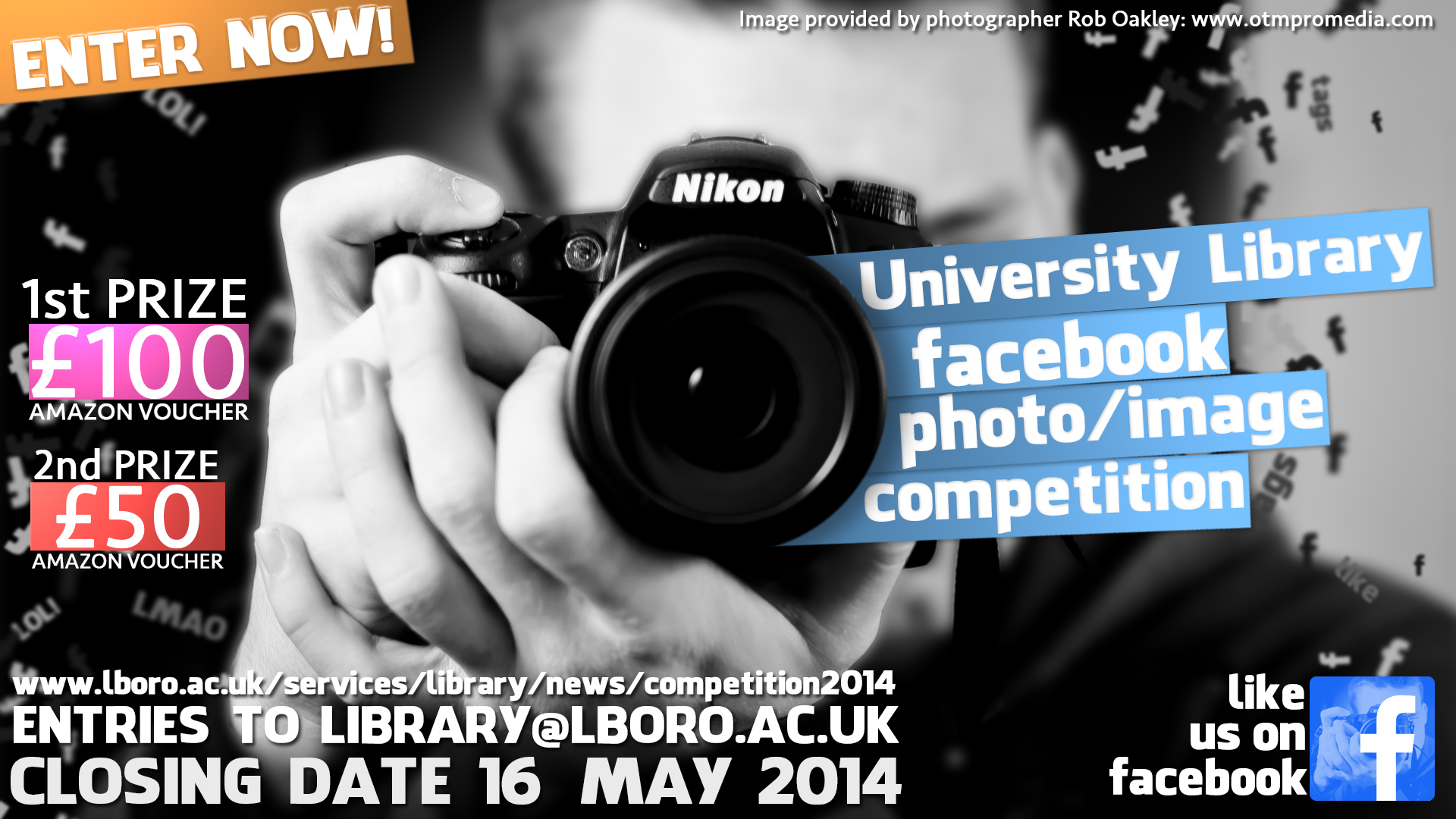 Can you make our Facebook page more inviting? Help us out and win Amazon vouchers worth £100!
Every year the Library holds an image competition and this year the focus is to find a new image we can use for our Facebook cover photo.
We are keen to make sure our presence on Facebook is useful, providing news and information about our services but we also want it to be eye catching, engaging and relevant for students, staff and prospective students and this is where you come in.
Maybe you want us to highlight the many resources we have, show off our newly refurbished space or perhaps you simply want us to be more fun.
Whatever your take, we want your images!
Our 2014 competition will run from April 28th to May 16th 2014.
Entrants can submit up to 3 of your own images as JPEGS, in colour or black and white between 1Mb and 3mB (1200×900 pixels to 2048×1536 pixels).
Each entry must have a title and location and may include an optional description.
There are no restrictions in the use of any digital enhancements of images.
The competition is open to Loughborough University employees and students.
Entrants have to obtain permission from any people used in their entry for their image to be included.
When images are submitted, entrants to the competition should provide their name, address, telephone number, e-mail address and also their position in the University and where the photo was taken. The University Library will only ever use your personal details for the purposes of administering this competition, and will not publish them or provide them to anyone without your permission.
We will select a number of images to go on our Facebook page and then we will invite votes to select the winning image. Selection will take place at the end of May and a message will be placed on our Facebook page.
The winning entry will receive £100 Amazon vouchers. The runner up £50 Amazon vouchers and all those whose images appear on Facebook for the vote will recieve £20 Amazon vouchers.
Entries should be sent as an email attachment to library@lboro.ac.uk by no later than May 16th 2014.
Further terms and conditions can be found here:
http://www.lboro.ac.uk/services/library/news/competition2014/
Good luck!