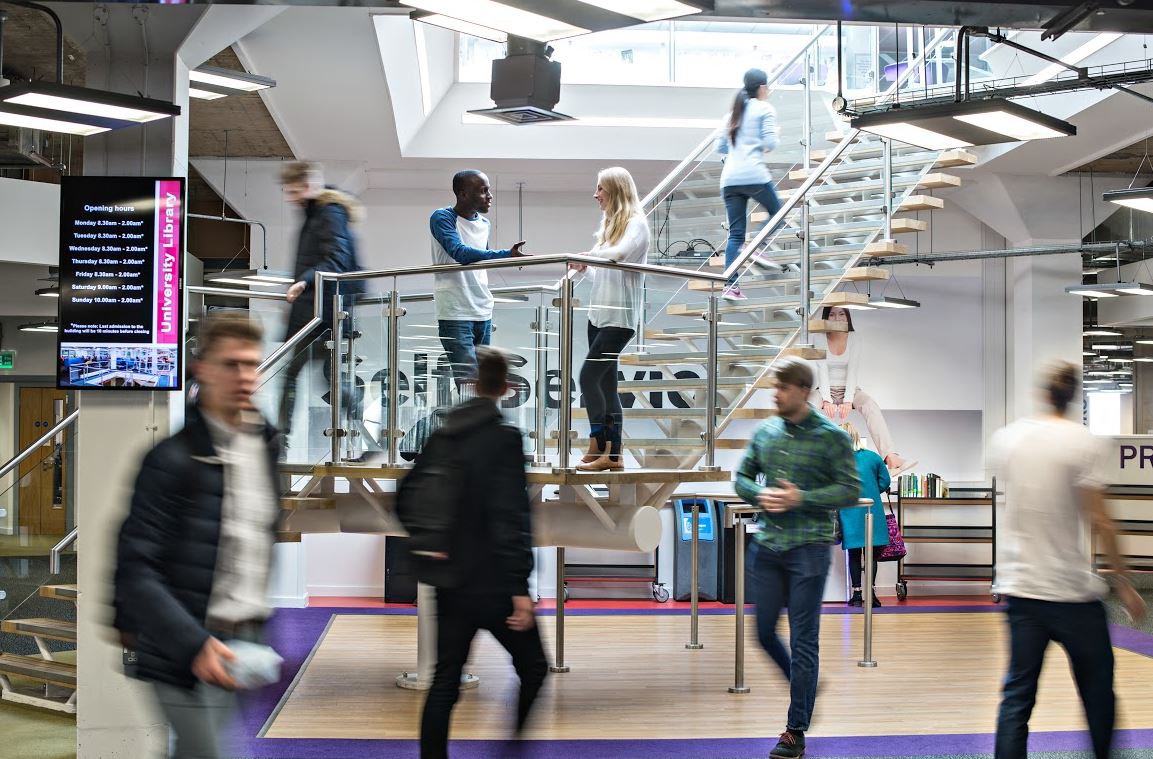 Our 24-7 Opening period begins from this evening and will run until 2am on Wednesday 15th June. As is customary, we'd like to issue a few gentle reminders about 24-7 etiquette…
Firstly, please respect your fellow users by considering what behaviour is (and isn't!) appropriate in the Library by studying our guide to Library facilities on our homepage.
Space is ALWAYS at a premium during exam time, and sadly there are always a few who feel the need to take up more space than they actually need – even when they're not actually in the building! So please, be kind and considerate and don't leave your stuff lying about when you're not there, as you're depriving other people of a much-needed place to study. We WILL be removing any items left unattended for 30 minutes to free up space (assuming someone else doesn't help themselves to your stuff first!).
Also please remember to keep your ID card with you at all times – even when you go for a break. Quite apart from the fact that you need it to gain entry to the Library, it is a University regulation that you keep your ID card with you at all times while on campus – if you lose it, you must report it and buy a replacement. And don't lend your card to your friends – that's against regulations too, and if we catch you, we will report you.
Levels 1,2 and 4 are intended to be areas for quiet study – please remember to keep the noise levels down to an absolute minimum on these floors, or you will be asked (nicely, by us, probably not so nicely by your fellow revisers!) to desist. If you want to chat – or have a snack – Level 3 is the designated social area.
Our designated Silent Study Area is on Level 4. When we say SILENT, we do mean SILENT! If you cannot abide by this, you will be asked to leave the area if you persist in causing disruption to your fellow users. We genuinely don't like telling people off as much as they don't like being told off, but for the sake of those genuinely wishing to study, we cannot tolerate bad behaviour or disrespect towards other users and staff. We appreciate that at times like this the stress levels rise, but though there are plenty of places on campus to let off steam the Library is NOT one of them! This applies just as much to use, or indeed misuse, of social media – think before you post anything, however witty you may think it is!
Our bookable study rooms, carrels and pods are pretty busy even off-peak, but during exam periods they're especially popular. Please remember that you have to book them first before you can use one – don't just turn up and sit down assuming the space is available, because it probably isn't! And if you do book a space, please remember to actually come and use it. We give people 15 minutes to claim their reservation, otherwise we will allow someone else to use it – it's simply not fair on other students to leave rooms unclaimed & unused.
Please use the bins and recycling containers to keep the Library clean and tidy. Please remove all rubbish from your desk when you go – leave it as you would expect to find it!
If you're a smoker, please remember that you cannot smoke directly outside the Library entrance – you must use the smoking shelter in the Library car park opposite. Some of you are probably getting as tired of being told this as we are of telling you, but get used to being nagged (or worse) if you continue to ignore this rule – it is a University regulation, and subject to the same disciplinary procedure if you break it.
Please remember, if you experience any problems at all regarding any of the Library facilities, just ask a member of staff, or contact us through our Twitter and Facebook feeds – we're here to help you as best we can.
Happy revising!